DOT Examinations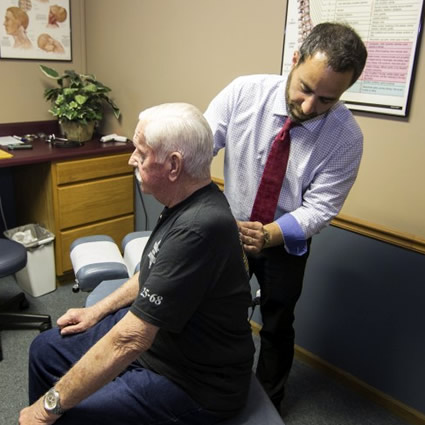 If you are required to complete a Department of Transportation physical examination for your occupation, you can get it done at Alton Chiropractic-at a competitive price.
Get your DOT Examination and Urine Testing Done
Those who need a DLP license to drive their vehicle must complete it every year or every other year. Dr. Holland is qualified by the DOT to perform these examinations, clearing you to drive.
Additionally, you can have urine testing completed at Alton Chiropractic if required by your workplace.
What to Expect
When you arrive, you'll fill out the required paperwork. The physical examination is done by Dr. Holland. It will be completed within 45 minutes. If your employer is covering the cost of the examination, we will bill them for it. Otherwise, you can pay with any major credit card.
FAQ's
Does my DOT medical card need to be obtained in the same state that my CDL is in?
This is not necessary. A Federal DOT examiner's certificate is valid across the United States, so you can get it any state regardless of where your CDL is from.
Do I need to get a new DOT medical card when I start a new job?
No, you do not need to get a new DOT medical card when you begin a new job so long as it isn't expired. A DOT card is transferrable between jobs and across state lines.
What's the difference between a DOT medical certificate and a DOT physical card?
There isn't a difference-the two terms are used interchangeably. If you have one, you have the other!
Will the DOT physical exam involve a drug test?
No, the DOT physical exam does not involve a drug test. You will, however, submit a urine sample for kidney function analysis. While the DOT test doesn't include a drug screen, the company you're working for may require one separately.
Can I get a copy of my DOT long form?
Absolutely. Simply contact us to request a copy.
Can I pass a DOT exam if I have high blood pressure?
A driver will be disqualified if they have a blood pressure at or higher than 180 systolic and / or 110 diastolic. However, if you can lower your blood pressure to less than 140/90 with proper treatment, you can regain certification requirements every six months.
What does it mean if I'm currently taking blood pressure medication?
If you're currently taking blood pressure medication and your hypertension or high blood pressure is controlled, then your DOT certificate must be renewed every year.
What are the eye sight requirements to obtain my DOT card?
To get your DOT medical card, you'll need to have visual acuity of 20/40 either while wearing or not wearing glasses or contacts. You'll also need to be able to maintain 20/40 with each eye when the other is closed.
If I have had laser eye surgery in the past, can I still receive my DOT card?
As long as you meet the 20/40 vision requirements, you should have no issue obtaining your DOT card.
If I have a current, active DOT card but am diagnosed with a medical condition that's disqualifying, am I able to continue to work for the remainder of my card validity?
If you develop or are diagnosed with a medical condition deemed disqualifying, you need to report the condition and resolve the issue before continuing to operate a vehicle for your job. You will also need to re-certify with a proper medical examiner.
Book Your Time
Same-day appointments are available. Contact our team now to set up your appointment!
CONTACT US

DOT Examinations Alton IL | (618) 465-2222